Tyler Family Assistance Center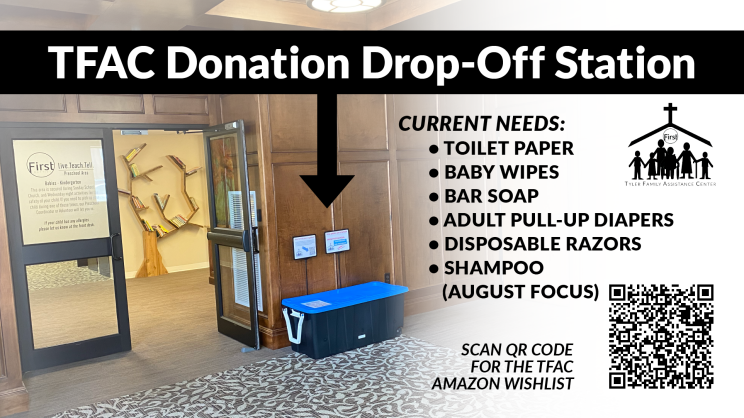 Neighbors Helping Neighbors
As a ministry of First Baptist Church Tyler, we serve the citizens of Smith County, Texas, offering nutritious food, clothing, toiletries and emergency assistance.
Our helpful and compassionate volunteers provide our neighbors a safe and friendly environment where their physical, emotional and spiritual needs can be met.
Hours of Operation:
Tuesdays & Thursdays
8:30am to 11:00am


First Saturdays of each month, 8:30am to 11:00am
Phone: 903.526.6757
SERVICES OFFERED:
Food Pantry
Senior Food Box Program
Clothing Closet
Toiletries & Hygiene Items
Baby Diapers
Past Due Water Bills
Other Emergency Assistance
TFAC partners with the East Texas Food Bank
to locally procure pantry items, fresh meats and produce.
We are here to serve you!
Contact us for more information: